Bikini Gipsy polka dots 2 pieces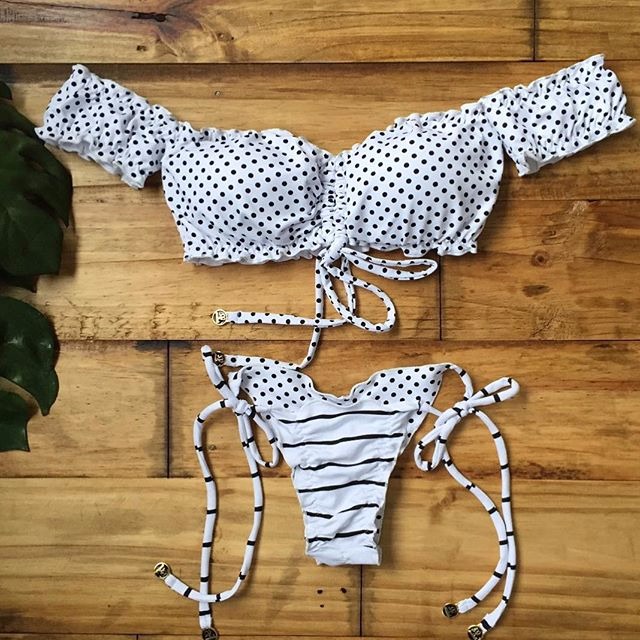 Bikini Gipsy polka dots 2 pieces
Brazilian Bikini 2 pieces Lycra® Xtra Life 50 UV protection. Bikini bottom ripple tied at the hips. Top with optional padding.
(TAX incl. / Price without shipping fee)
O mais charmoso da coleção, a tendência das bolinhas no modelo ciganinha, deixa o biquíni muito feminino e fica lindo no corpo. O top tem um bojo para que o biquini se encaixe perfeitamente nos seios. A calcinha, no modelo empina bumbum (ripple) com cordinhas que se amarram nos quadris, pode ser usada frente verso, um lado tem a mesma estampa de bolinhas do top, e no outro listras para quem quiser dar um ar mais moderno ao modelo.
The most charming of the collection, the polka dots with the gipsy model make the bikini looks very feminine and beautiful on the body. Top with padding. The bikini bottom is ripple mode tied at the hips and can be used on both sides, one side has the same print as the top, and the other side stripes for those who want more modern look.
Processing Time: This item will be shipped out within 3 business days
IMPORTANT: OUR PRODUCTS ARE NOT PRODUCED IN CHINA AND MUCH LESS WE USE SLAVE LABOR, THIS IS A CONCERN WE HAVE, ALWAYS LOOK FOR THE PRODUCT THAT IS MADE IN A WAY THAT RESPECTS THE PRODUCTION CHAIN. THE BIKINIS IS OF HIGH QUALITY MATERIAL AND FITS IMPECCABLE ON YOUR BODY.
Composition: 90% Polyamide / 10% Elastane (STA)
Made with UV50 + / Fabric 50 UV protection
Technology: Lycra® Xtra Life
Small manufacture
Weight: 0.2400kg
Package Contents: 1 x Bra 1 x Top
Whatsapp +34 652 25 42 18